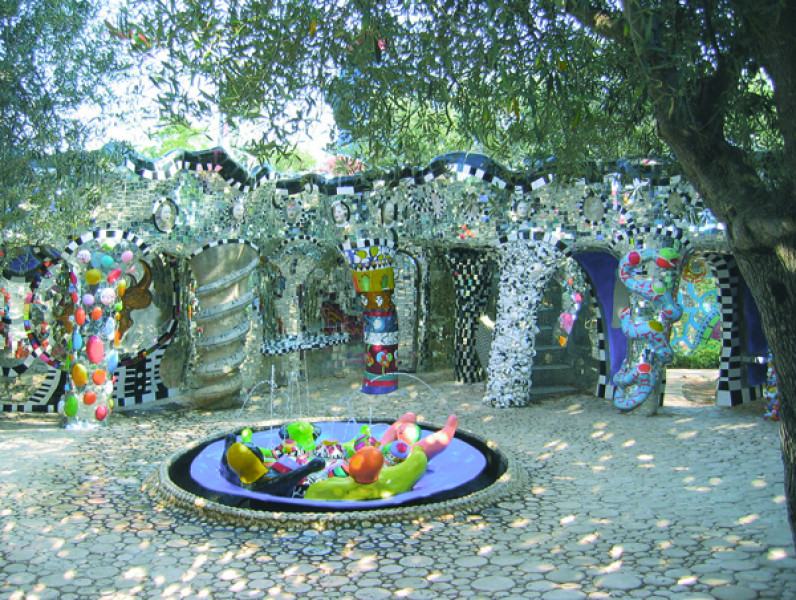 Not far from Capalbio, in Garavicchio, there is a work of extraordinary artistic value at international level, The Garden of Tarot.
Is an Artistic Park within a beautiful estate where art and nature are in perfect harmony. It was conceived by the artist Niki de Saint Phalle (1930-2002), a world-renowned Franco-American sculptor, and has been made since 1979 with the decisive initial contribution of her husband, sculptor Jean Tinguely.
With this fantastical-esoteric garden, the sculptor crowns his dream that has started since the early years of his activity. Remain enthralled by the soft and majestic shapes of Gaudí's Park Guell in Barcelona, ​​his completely self-financed adventure began over two decades, during which he faced many difficulties. The park is open to the public since 1998.
In the fascinating journey, Niki tries to convey to the works the sense of magic, wonder and mystery: the 22 greatest arcani of the Tarot are represented through colorful and imposing sculptures, some of which are up to 15 feet high and habitable. The sculptures were made of concrete, with an internal structure of bent iron bars assembled all by hand, covered with a metal mesh and a cast of concrete, which makes them anti-seismic. The imposing installations are covered with tiny multicolored tiles of different materials: from mirrors and ceramics of bright colors to Murano glass, made with the contribution of a group of local artisans. The result is amazing: a surreal and shining esoteric garden, enriched by Tinguely's mechanical works. The same author, like her husband, lived for long periods and had a study in some works.
A wall, built in local tuff, surrounds the park, separating it from the surrounding reality. The entrance, with a circular portal, is signed by the architect Mario Botta and the architect Roberto Aureli.
Always fascinated by the artistic treasures of the Tuscan cities, but worried by the effects of mass tourism, Niki De Saint Phalle wanted to avoid any possible crowding, in order to preserve for everyone the magical atmosphere that breathes inside. The garden is only open during some periods of the year and is poorly advertised, the entrances are closed and there are no large groups accepted.