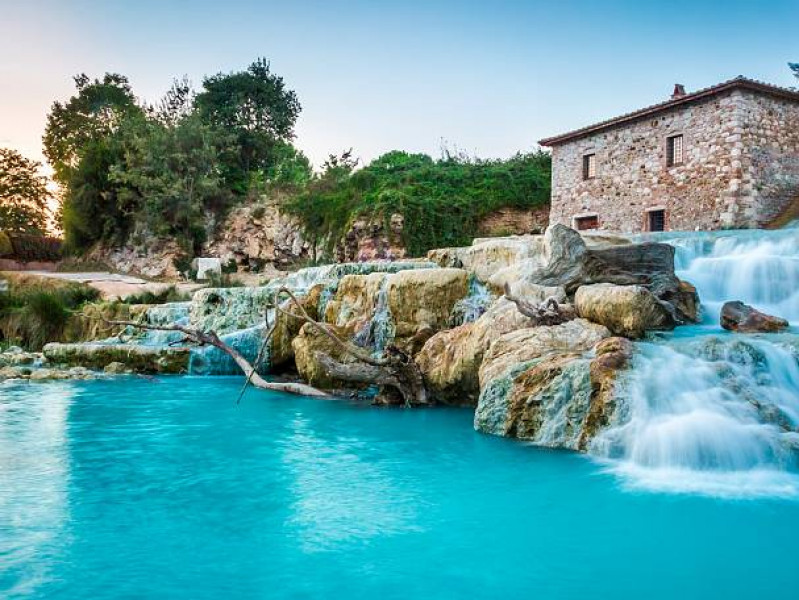 The legend tells that Saurn broke a stone while hurling a lightening, because he was furious with his father who had chased him from God's mountain. Suddenly a flowing of hot water sarted to spring out the stone: the thermal baths of Saturnia were born.
In Middleages vapours of hot thermal waters were associated to sin so that thermal springs were often associated to the entrance of hell.
This sulfureous water pools are probably the most famous in the world for their properties in healing skin, breath and skeleton diseases. Legends tell that Saturnia has been the first city of Italy to be founded and it dues its name to the God Saturn, lord of the underworld. Someone says that the city was founded around the X century BC by Pelasgi people. Some rests of city walls done with big stones and coloured travertin coul date back to that period.
Many etruscan necropolys tell that Saturnia was big and rich yet during the VIII century: its roman name was Aurinia, meanig made of gold. Its archaeological ruins are evidence of a great past. still nowdays we can distinguish remains of the ancient tempke which once was in the middle of the main square. It was abandoned and rebuilt so many times that going for a walk along its streets is like opening a history book and reading stories about a far and glorious past.