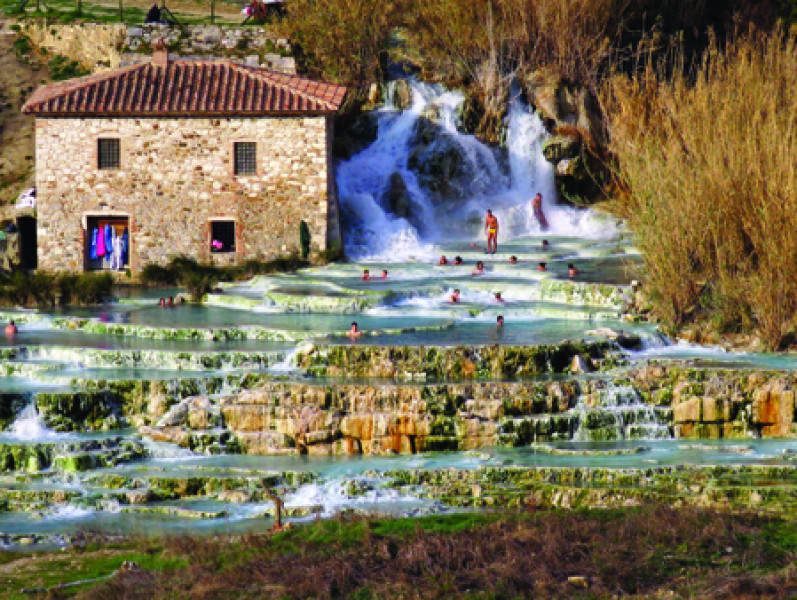 Regenerating, taking care of the body and spirit in one of the most beautiful natural settings in Italy. The Tuscan Maremma, with its spas, fine hotels and modern wellness centres is the ideal destination for a vacation aimed at relaxation and wellbeing. A land of ancient volcanoes and fumaroles, Maremma hosts numerous hot springs, from the heights of Mount Amiata to the Maremma plain. In fact as early as ancient times, the Etruscans and Romans recognized the healing powers of the underground waters flowing forth in Maremma, as testified by the ancient thermal baths of Saturnia, Petriolo and Sorano. The modern Leopoldine spas wellness centre in Marina di Grosseto is particularly worthy of mention.
The Thermal baths of Saturnia offer a different experience, immersing oneself in pools fed by a hot spring of 38°C. The stream that flows from the hot spring, known as the Gorello stream, creates the famous waterfalls of the Mulino located outside the ancient town. As these waterfalls converge in the Stellata river they form a series of natural limestone pools: an evocative setting, where one can freely bathe and enjoy the benefits of the sulphur-rich waters even in the dead of winter.
Not far from here, in the town of Sorano, a spring with magnesium limestone water flowing at 37.5°C feeds the Thermal baths of Sorano, famous since antiquity for their beneficial properties.
Along the boundary between the provinces of Grosseto and Siena, the Thermal baths of Petriolo are also very popular. Their waters, among the most sulphurous in Italy, reach 42°C. This high temperature, combined with an intense concentration of sulphur, ensures excellent therapeutic effects for the respiratory system. Here those who prefer direct contact with nature can immerse themselves in the natural pools set in a lush forest, resting their gaze on the remains of the ancient thermal facilities that overlook the surroundings, with rounded arches set on octagonal pillars.